Alexander & Edwards is a different kind of brokerage firm. Andre Shashaty started the firm after a successful career as a researcher and publisher focused on real estate finance, and after investing for his own account, primarily in multifamily housing. He has put over $4 million in equity into rental properties throughout California and other states, with very good results. He enjoys using his real estate knowledge and investing experience to provide first-rate service and advice to other income property investors.
Shashaty takes a creative and comprehensive approach to helping buyers and sellers. He helps buyers understand all their options, including types of properties, investment vehicles and geographic areas. He believes that sellers should pay only commissions that are reasonable given the marketability of their properties
He has been an advocate on housing and urban policy, researcher, writer, editor and publisher focused on the housing industry, financial markets and government housing and land use policy. He has owned and operated three businesses and directed two nonprofit organizations.
Previously, he was a registered investment advisor with a focus on helping clients choose suitable real estate investments.
Shashaty has been sole owner or joint owner in syndicated ventures in well over 24 properties, most of them apartments as well as some single-family rentals. He has had an ownership stake in about 2,000 housing units. (SEE Real Estate Experience tab)
As an investor, Shashaty has shown great attention to detail in analyzing markets, property finances and property condition. He has devoted many hours to asset management reviews of the reports furnished by syndication sponsors and sellers of property. He has rejected many more investment opportunities than he has accepted.
Shashaty has extensive experience evaluating properties and markets, as well as asset and property management. His expertise is focused on multifamily housing, both existing and to-be-built. He has in-depth knowledge of San Francisco Bay Area communities and real estate markets, as well as land use regulations and planning practices.
Housing Industry Leadership
Shashaty has played a leadership role in the housing industry for two decades and has won several awards for his work as a journalist and advocate for affordable housing.
His volunteer activities include: • Member of CAA Legislative Policy Committee's Affordable Housing Policy Subcommittee; member of Fundraising Committee of Homeward Bound of Marin; board member Marin Rental Property Association.
His career highlights include the following:
Founder, publisher & editor of the leading trade publication on affordable housing development, finance and policy. (Affordable Housing Finance magazine)
Founder & editor of a prominent trade publication on multifamily market-rate housing (Apartment Finance Today)
Recipient of 2005 Robert J. Corletta Award for Achievement in Affordable Housing from the Neighborhood Development Collaborative and the National Association of Home Builders.
Founder and volunteer director of The Campaign for Affordable Housing, a nonprofit dedicate to building public support for housing.
Founder and volunteer president of the nonprofit Partnership for Sustainable Communities.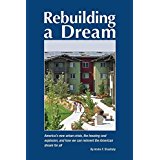 Author of the recently published book "Rebuilding a Dream: America's new urban crisis, the housing cost explosion and how we can reinvent the American dream for all"
Founder and chairperson of the trade show "AHF Live: The Tax Credit Developer's Summit" which became a must-attend event for developers of affordable housing.
Served as editor in chief of Commercial Property News and senior editor of Multi-Housing News in New York City.
Wrote articles on housing markets and policy for New York Times, Washington Post and many other national publications.
Widely quoted expert and award-winning author on federal housing programs and U.S. Dept of Housing and Urban Development.