Great upside potential and turnkey profits: 22 Units in Rohnert Park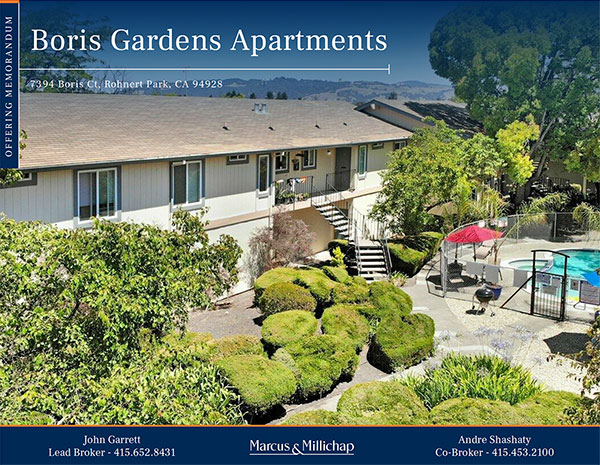 This meticulously maintained property in an up and coming section of Rohnert Park (45 Min North of San Francisco) has proven appeal to tenants and strong potential for increased revenue. It's perfect for investors who want good returns without making any improvements as well as those who want a clear path to increase revenue with pre-planned asset enhancement strategies. Extensive investment – to the tune of approximately $200,000 – was made in recent years to renovate interiors, replace appliances, upgrade flooring and ventilation, replace a roof, and improve common areas.
Greater upside potential is available by converting six garages and underutilized space into Accessory Dwelling Units. Plans for the new units are available for review on request. Further, ownership has maintained an option to charge fees for use of the property's 22 garages and has recently begun to roll out these charges – a new owner can continue this program to increase revenue even more going forward.
Boris Gardens is well located within a short walk to shops, dining, Technology High and Middle School, Benecia Park and a church. It enjoys a very good reputation as a family-friendly community with excellent amenities. Current tenants have been personally and carefully screened by the owner. The property offers investors a highly compelling opportunity to acquire an asset with a sound physical plant, highly desirable tenant amenities, and significant value enhancement potential.
Click below to view the Offering Memorandum